Beware of the Online Predators: What to look for & how to react
Posted 6/26/20 4:31:50 PM by Emily Pazel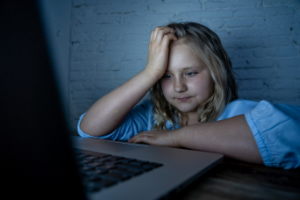 Technology today is ever-growing and reaching people both young and old, it is important to know the real threat behind dangerous people creeping among the internet looking for their next victims. Even though we now have easy and direct communication with long-distance family members and friends, the internet also allows complete strangers to lure unsuspecting children into their grasp.
On the internet, people have the advantage of being much more anonymous than in the real world, and because of this, online predators can create fake accounts and profiles to trick people into thinking they are a friend or someone they can trust. Especially for young children, bad situations can arise fast and it is good for them to have a trusting adult that they can go to for help.
As a parent, it is good to know this information to help your kids remain as safe as possible. And if you are a professional that works or sees children on a daily basis, it is also critical that you are able to pinpoint any red flags that you see and properly report any suspicious activity to the authorities.
Best Practices to Avoid Online Predators
Although there is no set guideline for situations like this, there are preparations and red flags that you, as a parent or guardian working with a child, can be on the lookout for and act as their main safety net.
Here are a few different things to lookout for and maybe even have a conversation about with your child:
Avoid suggestive screen names or photos: First and foremost, if you have a child that is age appropriate using social media, you should try to engage with them and monitor their use of it. Make sure that they are not using any suggestive photos or usernames, as this could lend itself to unwanted attention from dangerous adults surfing the web.
Be wary of flattery from strangers: Even though kindness is still a virtue that people use on the internet from time to time, online predators may use this technique to lure in children or young teenagers. You do not need to be suspicious of everyone that you encounter online, but you should be careful with someone who strikes up a conversation by being overly flattering with you.
Do not get too personal online. As a good rule of thumb, if a stranger starts talking to you and wanting to get to know you on a real personal level, such as a sexual level, you should end the conversation right away. Sometimes, once you start a conversation or even a relationship with someone, it can be more difficult to stop it.
People may not always be who they say they are. From an anonymous point of view, online predators can mask themselves as children or teenagers and talk to kids online. They may even use fake profile pictures and other profile details to make the user seem real. For this reason, it is a good idea to have an open conversation with them, so that you know who your kids are talking to and what they are talking about.
Never arrange to meet with someone you met online. With all the dating apps, it is harder said than done to not meet strangers online. However, children especially, should under no circumstances try to meet with someone they just met online. There are too many online predators out there ready to take advantage of online social media platforms and other websites to get close to a child or young teenager.
Tell a parent or trusted adult if you encounter a problem. If there is someone that you meet online that makes you feel uncomfortable or gives you any red flags, a trusted adult or parent should be notified immediately. It is also a good idea to save any emails or messages of communication that may be used as evidence with proper authorities later on.
Although not everyone that you meet online is going to have bad intentions, it is best to play it safe and trust your instincts. The internet has made it easy to reconnect with old friends and long-distance family members, but that does not mean that you should accept every friend request that comes your way.
If you or someone that you know, ends up in a situation where you believe the authorities need to become involved, you need to know the proper next steps in handling the situation. Especially if children are involved, they will most likely look to a trusted adult for guidance and getting help with the situation before it becomes too late.
Knowing What to do Next
Violence, especially among children, is an important public health issue, according to PA Requirements, an online resource for working professionals in the state of Pennsylvania to continue their education and prepare to identify child abuse and comply with the mandatory reporting requirements.
The World Health Organization (WHO) estimates that nearly 53,000 children are murdered each year and that the prevalence for forced sexual intercourse and other forms of sexual violence among boys and girls under the age of 18 is around 73 million and 150 million respectively.
If you or someone you know suspects that a child has become susceptible to any type of child abuse or is in immediate danger, the very first thing that you should do right away is call 911.
"When talking with children to establish reasonable cause, find a private place and remain calm. Be honest, open, and up front with the child. Be supportive. Listen to the child and stress that it's not the child's fault. Do not overreact, make judgments, make promises, nor interrogate or investigate," according to the PA Requirement's child abuse course.
If you are working in a professional setting and become aware of a situation that needs to be further investigated, you should call law enforcement right away and create a report. Next, you should notify the person in charge of the institution, school, facility or agency.
If the situation does not require an emergency response, but you still think you should properly record it, you can report child abuse suspicion to ChildLine electronically at www.compass.state.pa.us/cwis. Or, you can call the Child Abuse Hotline or ChildLine at 1-800-932-0313.
As parents and as working professionals that encounter children on a daily basis, knowing and recognizing the three top indicators of child abuse is crucial:
Physical indicators
Child behavioral indicators
Parent behavioral indicators.
By being knowledgeable in these facts, you could potentially make a difference in someone's life.
You can find all the specific signs and behavioral indicators on the PA requirement's child abuse course here.
It should also be noted that although the majority of child sexual abuse cases do not occur online, you can never be too careful in the age of the internet. The world wide web is the perfect place for online predators and pedophiles to access child pornography, as well as set up fake profiles to lure more victims into their homes, both virtually and physically.
---
Recent Posts
Categories
Archives