Getting Ready for Back to School: Students & Teachers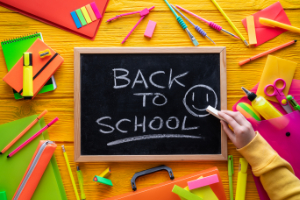 As summer comes close to an end, students around the country will be getting ready to start a new school year again. Whether your child is trying out a new school this year or heading back to the same school for the third year in a row, it's always a time of mixed emotions. Some children are anxious about meeting new classmates while others might be excited to get back to seeing their old friends again. As a parent or guardian, it's up to you to figure out when your children need your support and encouragement to make their transition back to class as smooth as possible.
And, students aren't the only ones getting close to returning to school again. Teachers, school administrators and other school employees will soon be back to the old grind, working to make sure students have the best possible learning experience at their school. Come this August, school campuses will be bustling with people again and children will be back on track to furthering their education. So, let's get them ready for their first day.
Getting Your Student Ready
The school year typically starts up around Labor Day Weekend, which marks the end of summer. Although it can depend on your school program, most schools will begin around this date or the middle of August. But it's always good to check your school's website or call the school your child will be attending so you can double-check the date. Along with the first day of school, typically there will also be a date for orientation before school starts as well as a list of school supplies your child will need for class.
The school year will begin before you know it, so it's great to look at stuff ahead of time and start getting ready. One of the first things you will want to start doing is stocking up on supplies, which can mean more than just school supplies. According to the Public School Review, back-to-school shopping can include new clothing, getting items off your child's school supply list and trying to look for great back-to-school deals while shopping.
Before shopping for school clothes, per the Public School Review, it's best to take an inventory of your "current clothing situation" to make shopping for new clothes an easier experience. If your child has outgrown their clothes or they are torn or stained beyond repair, it's best to toss out what can't be re-used and then try to donate the rest. Or, if you are looking for a fun project, you can save the clothes for a garage sale. After getting rid of clothes that you don't need anymore, now you can take inventory of what he or she might need and then go shopping. And, be sure to keep an eye out for end of season sales that might help you save money.
Shopping for school supplies is a great way to get your child's mind from vacation mode to back-to-school mode. Start by finding and purchasing a new backpack for the year that way the school supplies can go inside the backpack after they are purchased. Typically, your school will provide a school supply list that you can take as a guide for what you need to purchase. Once again, try to take advantage of back-to-school sales that some larger chain stores will have – it may help you save a buck or too.
One of the biggest challenges you might face sending your child back to school is trying to regain their school year routines. Summer usually brings fun, lazy and relaxing days for kids that don't always come with a schedule. First, start regaining routines by switching back to a school bedtime and by setting the alarm a little earlier each morning. This provides a gradual phase-in of waking up early, which can be easier to handle.
The Public School Review also recommends creating:
Calendar Station

: Get a big, full calendar and place it in a centralized place in the house; write out each day's activities and color code the entries for separate family members. These can include: school lunch menus, sports schedules and class assignments sheets.

Positive Habits

: Enforce positive habits to make the busy school mornings run more smoothly; have your children lay out clothing the night before, fill water bottles or back lunches to store in the refrigerator until the next morning. Have a "send-off station" that's located near the door that includes the backpacks, keys, important papers, etc.

Organize a Study Space

: In order to keep children on the ball about getting their homework done, create a study space for them. For younger children that need to be supervised, this could be a special place for them at the kitchen or dining room table or in a corner of the family room away from any distractions; for teens that need a quiet space, usually a bedroom or office works well. Stock the homework station with pencils, crayons, paper, scissors or whatever else they may need to get their assignments completed.
Other ways to get your child back in the back-to-school mode is by slowly bringing in exercises for the brain. Head to the library for a summer reading program and have your child read some books. Playing board games often requires some brain-usage, as well as devoting some evenings to spend family time together. But most importantly, keep it positive. Talk to your children one-on-one and encourage them about learning in the classroom and furthering their education to be successful in life.
As mentioned before, many schools offer an orientation day, which is a fantastic way to meet the teachers and other classmates before the first day begins. Going to orientation not only gets students back in the school mode, but also gets teachers ready for their school year to begin.
Teachers, Are You Ready?
Summer vacation was fun while it lasted, but it's almost time to get back to doing what you do best – educating young minds for a successful future. It's time to start preparing your classroom, your supplies and your curriculum for the new school year.
Fortunately, Scholastic.com created a quick checklist that might make getting ready for the new school year a tad easier:
Plan your bulletin boards; decide where to post announcements, menus and calendars; prepare a welcome back display; designate boards for subject area work and for students to design and display their work

Set up two or three learning centers to get started

Create signs that help students learn the rules and routines; also be sure to post a sign for your room to help students find your classroom, as well as a class list

Prepare class rolls and permanent records

Create student name tags for desks

Gather and organize all your supplies, which could be a long laundry list of supplies

Write tentative lesson plans for the coming week
Being a teacher comes with a huge responsibility and a long list of things you will need to start the new school year. With only a few listed above, you may want to thoroughly research and prepare yourself for what the new school year will bring.
So, whether you are a student or a teacher, get those alarm clocks going and start easing into your new school year transition. As the end of summer hits soon, school campuses will be ready to begin a new school year.
---
Recent Posts
Categories