Tips for Surviving Your Internship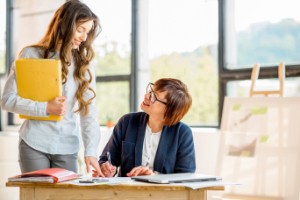 Whether you are in high school, college or completing another step towards achieving your career goals, internships can be the "foot-in-the-door" opportunity that you might need to land your dream job. But getting a job in today's competitive job market can be stressful. Many times, you are competing for one position among multiple candidates, and the interview process can last weeks or even months depending on the position the business is trying to fill.
More than likely, however, an internship can be a key factor that sets you apart from the competition. It not only shows that you are a hard worker, but it also indicates that you have invested the time to learn and experience the career field that you are trying to pursue. And in many cases, you may even need an internship experience in order to graduate from college or whatever program you are completing.
Whatever the case may be, having an internship under your belt usually adds a solid piece of experience to your resume and strengthens your overall application as a candidate for a future position. So, let's start by going over some good ways to make a good impression during your internship.
Good ideas for standing out during an internship
While landing your dream internship is a big deal, setting yourself up for success during the internship can bring even bigger, brighter opportunities for your future. It also gives you a small glimpse of what working in that particular industry feels like, so that you can see if it's a good fit or not.
Depending on the industry you go into, there will be variations of what to do and not to do during your internship. But, we can suggest a few things that might come in handy with no matter what internship you take on:
Make a Great Impression

Although you might think this is common sense, there is a lot to learn about setting a great first impression. And, first impressions are important because we live in a fast-paced, competitive world.
According to the Harvard Business Review, one of the first things you need to do in order to make a great first impression is to come into work prepared. Do your research. Whether you are meeting your employer for the first day or have a meeting scheduled for your first assignment, you should try your best to be prepared for any information that might be thrown your way.
Another great way to set a good first impression is to be aware of your body language and to be punctual. Although it's easy to feel excited and nervous and other types of emotions on your first day, per the Harvard Business Review, your body language should be confident yet also comfortable. And, it's always nice to show up on time or even be a few minutes early, which shows that you are dependable and value your employer's time.

Don't be afraid to ask questions

By asking questions, not only are you ensuring that you are getting all the right information, but you are also showing your employer that you are listening and that you are engaged. Make sure to have a notebook and writing utensil with you to write things down as you go.

Network & offer to help with additional projects

Remember that as an intern, you are there to try to stand out and make a good impression as to hopefully get a full-time job there or at another similar location. You should take this opportunity to network and try to get to know your coworkers better, as they can become great work references later on or even recommend you for a permanent position to the employer.
Offering to help with additional projects is another way to try to stand out among the rest. Taking on more work and responsibility is a great way to show your employer that you enjoy working and are ready for more work in the future.

Be sure to follow up with your employer

At the end of your shift or workday, try to follow up with your boss or employer to see if there's any more work they need help finishing. This is a good opportunity for them to see that you are taking initiative and are there to help the business be successful instead of just trying to get paid.
This is also a great way to let them know that you are thoroughly interested in continuing to work with them in the future.

Record your accomplishments/update your resume

Lastly, while you are completing your internship – whether it becomes a permanent job or not – be sure to record all your accomplishments while you were there, as well as update your resume.
If you win an employee or professional award, make sure it's recorded. If you get published, make sure you record it. And, by making sure everything is recorded, you can use that as an advantage in your next job interview or as a way to remind your boss about all the accomplishments you had during your time as an intern with the company.
If your internship goes well and you make a good impression on your employer, you might walk away with a permanent position under your belt. However, sometimes that's not the end goal of the internship and you can ask for a recommendation letter for the next job interview you attend or for the next level of schooling you want to finish. Whatever the case may be, hopefully your internship is a positive work experience that gives you a better insight into the industry you are preparing for.
Internship ideas for students
Now that you know how to survive your first internship, hopefully you'll have the tools you need to apply for a great opportunity. But if you need a little extra help in finding something you would be interested in, here's a few job ideas:
If you aren't convinced you have had enough background information about internships or job interviews, the University of Pennsylvania has a page dedicated to tips and tricks for helping students and graduates get the internship or job they desire.
So now that you have a good understanding of what an internship might entail, it's time to apply and find your opportunity. You never know – a good internship might help you find out if that's the career path you want to pursue and be the ticket you need to finally land your dream job.
---
Recent Posts
Categories