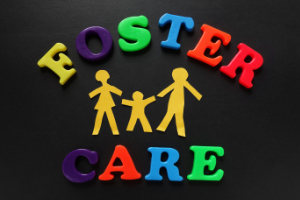 Have you ever considered becoming a foster care parent, but didn't know where to start or how much it would entail? Many times, taking care of a child in the foster care system is easier said than done. It involves finding the right fostering program, becoming certified into the foster care system, staying up-to-date on your inspections and certifications and preparing your home for taking care of a child that may be staying with you for an extended period of time.
Nationwide, according to the Foundation for Foster Children, there are roughly 500,000 children and youth in the foster care system. Unfortunately, children in the foster care system typically "change families, schools and communities with appalling frequency," and roughly two-thirds of children end up moving seven or more times while in foster care.
Typically, children are placed into a state-run foster care system set up to provide alternative living situations for children whose parents can no longer take care of them. However, there are private foster care agencies as well, which help assist the state in the burden of providing funds and can usually match foster children to families quicker. So, if you were interested in becoming a foster parent, what comes next?
How to Become a Foster Parent
Fortunately for you, if you are looking to become a foster parent, the Pennsylvania Statewide Adoption & Permanency Network is looking for loving families to become part of the statewide foster care program. With roughly 15,000 children in temporary foster care throughout the state, the foster agency explains that you can become a foster parent and "touch the lives of children in a significant and lasting way."
How to get started on becoming a foster parent in the state of Pennsylvania:
You must be at least 21 years of age

You can be single, married, divorced or in a partnership; you can also have children, rent or own your residence, have a modest income, be a working parent or have a disability

To become a foster parent, the agency will conduct a criminal background check and child abuse clearance on everyone in your home, age 14 and up

The process will require an in-depth evaluation of your total family picture and history, including financial stability

Physical features of your will also need to be evaluated to ensure there is adequate space for a child and that all safety requirements have been met; this will include at least one flushable toilet, one wash basin and one bath or shower with hot/cold running water, as well as an operable heating system and telephone

Sleeping areas have to include a bedroom and not a hallway, stairway, unfinished basement or attic, garage, bathroom, eating area, closet, shed or detached building; each child should be provided with a clean, comfortable mattress and clean linens, blankets and pillow

You must have the ability to provide care, nurturing and supervision for the child

The agency will look for demonstrations of an emotionally stable environment, which includes ties with family, friends and the community, as well as relationships with your own children (if applicable)

You must also be able to meet the special needs of the child
After passing all the prerequisites required to become a foster parent, you will have to attend training to become licensed and certified. The training varies by state and agency and usually entails protocols on typical foster-care-type engagements, as well as emergency situations that may arise. The training is also there to help you understand how the child's past experiences can affect them, to talk about issues such as grief and loss, to provide you with parenting techniques, as well as provide you with resources available to help you through your fostering journey.
Did you also know that when you become a foster parent, you also become a certified mandated reporter? That's correct – as a foster parent, you are now legally required to report any suspicion of child abuse or neglect to the relevant authorities, which is something you will learn how to do in your training.
In addition to receiving training and support when starting to foster, you are also reimbursed for the cost of caring for a foster child. Whether you take on a long-term foster and possibly a child that just needs a place for the weekend, you will be reimbursed for their care.
So, now that you have a pretty good grasp of how to become a foster parent, the next step is receiving your first foster child (or placement) and seeing if it's the right fit for you.
What's Fostering All About?
Being a foster parent means creating an opportunity to truly make a difference in a child's life and caring for a child who has been possibly abused and/or neglected by his or her parents. It also means, according to Pennsylvania State's Resource Family Association, making a commitment to helping children and their family during a tough time, as well as a self learning process to build parenting skills needed to meet the needs of your foster child.
However, fostering also isn't for the faint of heart. Although there are many upsides to fostering and knowing that you are making a meaningful impact in children's lives, it sometimes comes with a price. Per the State of Pennsylvania:
"Most children are in foster care for a short time, with the majority of children returning to their family of origin. A foster home can be an important haven, keeping children safe, helping them cope with their grief and loss and helping to prepare them for the eventual return to their family. Because of these challenges, foster parenting requires special people—people who can take children quickly and without hesitation into their homes knowing that, when the time comes, they will need to lovingly let them go."
While getting a foster child back to the parent or parents is typically the end goal of the foster system, it could also be the case where a foster family decides they would like to adopt their foster child. If that becomes the case, your family could receive training, coaching and interviewing on the adoption process. If you don't wish to adopt, you could also play a pivotal role in the adoption process, especially after creating a special, unique bond with the child.
While there is a lot to process when thinking about signing up to become foster parents, there's some things to consider before doing so, such as, you must be willing to work with social workers and other community professionals. You have to be an advocate for the child's needs in school, counseling and medical care, as well as have the energy and time enough to give foster children the attention they need. It's important to have family, friends or other support systems that you can call on for guidance and help without feeling embarrassed to do so.
If you feel it in your heart to start your fostering journey today, call a licensed fostering agency to express your interest. Typically, agency listings can be found in the Yellow Pages section of your phone book under Human Services or you can try searching online. You can also contact the Pennsylvania State Resource Family Association (1-800-951-5151 in PA) for a listing of member agencies and start changing the lives of young children in need.
---
Recent Posts
Categories