What do you know about Foster Care?
Posted 5/1/20 10:20:33 AM by Emily Pazel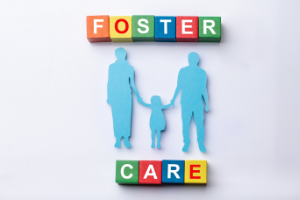 All children deserve a loving home and a comfortable bed to sleep in, and through the foster care system, caregivers are able to help children find the happy medium they deserve until they are adopted or placed back with their rightful families. In 2018, there were over 400,000 children that were living in foster care, with nearly one third of them living with relatives of some kind.
During the month of May, we celebrate National Foster Care Month to recognize those that play a critical role in enhancing the lives of children in foster care, and by increasing the spotlight on the needs of children who may be living in tough situations around the country. So, maybe you or someone that you know is looking into foster care and how it works? We are here to explain the process and make it a little easier to understand.
What is foster care? And how does it work?
Foster care, by definition, is a temporary living situation for children whose parents cannot take care of them and whose need for care has come to the attention of the child welfare agency staff. Generally, children that live in foster care either live with relatives, with foster families or in group-home facilities. Statistics show that over 50% of children that enter the foster care system end up returning back to their families. While some children stay in foster care for a brief amount of time, others may spend years in foster care. Typically, how long children stay in foster care depends on the child's family situation and what options are available in their communities.
The ultimate goal of foster care is to ensure that children live in stable, lifelong families so that they can receive the care and attention that is vital to any child's healthy development and well-being. Until a parent or relative can get back on track, or even an adoptive family agrees to raise the child, placing a child into foster care is meant to be temporary.
From infants to teenagers, children are placed into foster care because their families or themselves are going through a tough time. Whether they are abused or neglected by the parents, they are removed from their current situations to help protect their safety. Under the current law, children in foster care are supposed to have contact with their family members through regular visits. And while it is natural to miss their families, children have reported that they realize being in foster care may be the better temporary situation.
Foster parents can be both relatives and nonrelative adults that step up to care for children that may have experienced a tough situation where their parents are no longer able to take care of them. Being a foster parent means that you try to provide them with the best care and normalcy as possible, while also fostering the idea that children be placed in a permanent situation through returning to their biological parents or through adoption. Some also might be placed into foster families or group homes, which provide shelter, care and other related essential services for the child.
So, how do children end up getting placed into foster care? Typically, some type of abuse or neglect is reported to the local law enforcement or government officials who are associated with the child welfare system. After allegations occur, social workers are sent to investigate the situation and the agency must get approval from a judge if they determine that it is not safe for the child to continue with their current living situation.
As child abuse and neglect continue to become an issue on our society, it's important to know what to look for so that you can make the right decisions and help save a child in need.
Looking for signs of abuse
As a working professional, you may encounter children or work closely with them on a daily basis, and it's good to know how to spot signs of abuse to be able safely help that child. Violence, especially among children, is an important public health issue, according to PA Requirements, an online resource for working professionals in the state of Pennsylvania to continue their education and prepare to identify child abuse and comply with the mandatory reporting requirements.
If you or someone you know suspects that a child has become susceptible to any type of child abuse or is in immediate danger, the very first thing that you should do right away is call 911.
"When talking with children to establish reasonable cause, find a private place and remain calm. Be honest, open, and up front with the child. Be supportive. Listen to the child and stress that it's not the child's fault. Do not overreact, make judgments, make promises, nor interrogate or investigate," according to the PA Requirement's child abuse course.
If you are working in a professional setting and become aware of a situation that needs to be further investigated, you should call law enforcement right away and create a report. Next, you should notify the person in charge of the institution, school, facility or agency.
If the situation does not require an emergency response, but you still think you should properly record it, you can report child abuse suspicion to ChildLine electronically at www.compass.state.pa.us/cwis. Or, you can call the Child Abuse Hotline or ChildLine at 1-800-932-0313. By being knowledgeable in these facts, you could potentially make a difference in someone's life.
You can find all the specific signs and behavioral indicators on the PA requirement's child abuse course here.
So, maybe the way you are looking to get involved in helping children out is by becoming a foster parent? What all goes into becoming a foster parent, and how does it help the children that are involved?
How to become a foster parent
Becoming a foster parent means that you are agreeing to taking on the responsibility of becoming someone's parental guardian for a temporary amount of time, and being a role model for them to look up to. Ultimately, that child, as well as the court system, will have to trust in your ability to make sure the child is taken care of while a more permanent resolution is being made.
According to the Pennsylvania Department of Human Services, the minimum requirements to become a foster parent includes:
Being at least 21 years of age

Pass a medical examination that states the individual is physically able to care for children and is free from communicable disease

Pass screening requirements related to child abuse and criminal history clearances
On top of these basic requirements, the agency will also look into other circumstances such as parent/child relationships, how the applicant can meet the special needs of children placed in the home and the number and characteristics of children best suited for the foster family.
The process to become a foster parent can seem daunting and cumbersome, but the state must make sure that the child is being placed into a safe, loving home. After all, every child deserves a warm bed to sleep in, a tummy full of food and a decent guardian/parent to look after their needs and provide a stable home.
---
Recent Posts
Categories
Archives