When Pennsylvania Schools Open, How will COVID-19 Change the Landscape?
Posted 7/27/20 4:47:12 PM by Sandy Thompson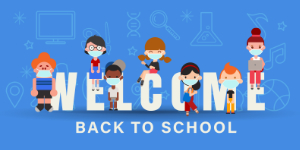 The Pennsylvania Department of Education states they are "committed to offering guidance and resources to support and help protect school communities during this pandemic." Although the plans for how and when schools reopen is still a moving target, the Pennsylvania Department of Education has provided a Preliminary Guidance for the Phased Reopening of Pre-K to 12 Schools.
The reopening of schools depends on the public health conditions and will vary by county. Additionally, the phased reopening will be designated by Governor Wolf's Process to Reopen Pennsylvania. Since the reopening phases may be adjusted due to the current public health, schools have been tasked with maintaining flexibility in relation to reopenings.
With the increasing number of positive COVID-19 cases in Pennsylvania, the state is encouraging residents to continue social distancing, increased hygiene practices and to wear face coverings in public. Additionally, many stores and social meeting areas are implementing the requirement to wear face coverings in order to enter their place of business. Schools too are looking to implement this requirement to aid in reducing the cases of COVID-19.
Reopening With Face Coverings:
The CDC has created a special "Schools and Childcare Programs" information page to assist in the reopening of schools. Additionally, the CDC provides guidance to schools on how to respond if a school encounters a COVID-19 outbreak.
The CDC recommends the following precautions related to face covering use at school:
For K-12 schools, cloth face coverings are recommended as a barrier to prevent respiratory droplets from traveling into the air and onto other people. "Cloth face coverings are meant to protect other people in case the wearer is unknowingly infected"
Cloth face coverings should not be placed on:

Children younger than 2 years old

Anyone who has trouble breathing or is unconscious

Anyone who is incapacitated or otherwise unable to remove the cloth face covering without assistance
With the requirement of wearing face coverings, it is important to prepare for potential issues related to the enforcement of the policy. The CDC points out obstacles or unintended consequences related to the recommendation that K-12 schools enforce face coverings:
Stigma

Discrimination

Bullying

Family decisions not to wear face masks
Because of these possible consequences, the CDC recommends schools have a plan in place to address these concerns prior to opening. Additionally, the Pennsylvania Department of Education has instructed schools to create a Health and Safety Plan which will outline each school's plan for reopening and addressing issues as they arise. Each school is to address and include the following areas of concern:
Designate a "Pandemic Coordinator" that identifies staff and community members to lead preparedness and response and to survey families within the school community to determine their outlook on in-person instruction and to obtain feedback regarding their concerns and plans for their child.

Outline their steps to protect students and staff that are at high risk for severe illness by addressing flexible attendance policies, limit their exposure and limit/cancel unnecessary travel.

Develop a process for monitoring students and staff for COVID-19 symptoms and exposure history. They should be able to check for symptoms daily, perform health checks, address privacy concerns, advise the community about home self screening and encourage sick staff or students to stay home with a flexible attendance policy.

Develop a plan in relation to isolation or quarantine when a staff member or student becomes ill and develop guidelines that define when isolation/quarantine is required.

Distribute guidelines for hygiene practices including handwashing, face coverings for staff and face coverings for older students. Including providing face coverings for visitors, maintenance of supplies and work with local healthcare agencies on distributing hygiene and disinfection strategies that can be done at home.

Post signs in highly visible locations that promote the protective measures to stop the spread of germs. Additionally, they are to create broadcasts or announcements that discuss how to reduce the spread of COVID-19 and provide information on obtaining free digital resources from the CDC.

Designate procedures for cleaning, sanitizing, disinfecting and ventilating learning spaces used by students.

Encourage and maintain social distancing for students when they occupy a desk and classroom.

Restructure the use of cafeterias and transition to serving meals in the classroom.

Sporting activities, recess and physical education classes are to adhere to CDC recommendations for social distancing.

Train for all faculty and staff on implementation of the Health and Safety Plan before providing services to students.

Limit the number of individuals in classrooms, other learning spaces and reduce interactions between groups of students.

Limit the sharing of materials amongst students.

Identify and restrict non-essential visitors and volunteers.

Adjust transportation schedules to adhere to social distancing guidelines.

Develop a system for ensuring ongoing communication with families in relation to the local Health and Safety Plan and advise families how they can best practice safe hygiene at home.
The Pennsylvania Department of Health is collecting and posting copies of each school's Health and Safety Plan. You can review submitted plans by county here.
The Future of In-Person Education
Although school openings across America are being postponed or modified, the "normal" school day is surely to be different in the wake of COVID-19. The health and wellbeing of the students, teachers and school administrators is a primary concern.
Hopefully with the additional safety procedures, schools everywhere can strive to reopen and provide some type of normalcy.
---
Recent Posts
Categories
Archives